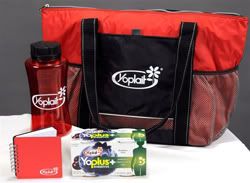 Three lucky Goodies for Mom readers will have a chance to win a Yoplait Yo-Plus Gift Bag that includes a coupon for a free 4-pack of Yo-Plus yogurt, Yoplait cooler tote bag, water bottle, and a nutrition journal – to help you keep track of your health goals and eating habits. P.S. The cooler tote bag is awesome. I had to fight my husband for it. He won ;).
Well, it seems like our resolutions to eat healthier for the new year are already slowly slipping away. Yoplait has an answer for you. It is their newest flavor from Yoplait Yo-Plus yogurt – Blueberry Acaí!
Blueberry Acaí Yo-Plus is fruit-flavored yogurt that contains live and active probiotic cultures that help regulate your digestive health year-round. Yo-Plus also is a good source of fiber, calcium and vitamins A & D. It's extra creamy and you'd never know by the taste that it so good for you.
In addition, Yo-Plus is now offering a $1.50 off downloadable coupon for a 4-pack of yogurt available.
Visit Yo-Plus.com for tips on how to maintain a balanced life and more.
Enter to Win
Enter for a chance to win one of three (3) Yo-Plus gift bags, by leaving us a comment sharing your personal tips on how to stay healthy and maintain a nutritional diet in 2009 by midnight EST on Monday, March 9, 2009. Open to US Only.
More Chances to Win
Here is a new way to get extra chances to win. Just vote for the Cushie Pushie Company in the Leading Moms in Business Contest each day for extra chances to win or tweet asking others to vote for us. Make sure to leave us a comment every time you vote. (It's easy with just two quick clicks, no registering, and you can vote for us once a day for the length of this giveaway. That's more than 14 chances to win. :)

Brought to you by MyBlogSpark.