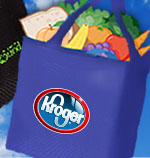 Kroger is inviting customers to visit www.kroger.com/green. Here you can enter the Kroger Reusable Shopping Bag Contest by designing your own reusable grocery bag with Kroger.com's easy-to-use design tool before May 23, 2008.

Then just e-mail your friends and family asking them to vote for your design. Voting will run through the end of May. The 10 top-voted designs will be featured on http://www.kroger.com/ starting June 2, 2008.

A panel of judges will review the 10 top-voted designs and award one lucky designer a $500 Kroger gift card. Judges will also select four finalists to receive $250 Kroger gift cards and five runners-up to receive $100 Kroger gift cards.

Everyone who enters a design that has a valid Kroger Plus card will also receive a digital coupon good for a free reusable bag of their own.

And there's more, if you come back and post a comment below with a link to your design by May 31, 2008, Goodies for Mom will pick our two favorites and give each a $25 Kroger gift cards.

If you don't want to submit a design, just stop by www.kroger.com/green to vote for your favorite.

[Go to www.kroger.com/green now.]

About Kroger Company
The Kroger Company spans many states with store formats that include grocery and multi-department stores, convenience stores and mall jewelry stores. Thye operate under nearly two dozen banners, all of which share the same belief in building strong local ties and brand loyalty with our customers.