Blogging for Blood Cancer has now begun!!!!
Go to our official Blogging for Blood Cancer Event post to learn more about this exciting event, The Leukemia & Lymphoma Society, and the importance of raising awareness for blood cancer. Also learn how you could get a chance to win hundreds of dollars of prizes win.
[Start Blogging for Blood Cancer now.]
This post is now closed. The winner of the $25 Barnes & Noble Gift card is Link #65 Sammi Peters. Thank you everyone who helped us publicize this wonderful event!!!! We had more than 100 sites participating.
~~~~~~~~~~~~~~~~~~~~~~~~~~~~~~~~~~~~~~~~~~~~~~~~~~~~~~~~~~~~~~~
If you have a blog or a website, please help us promote our "Blogging for Blood Cancer" Event. The first annual "Blogging for Blood Cancer" event will take place from August 11-18, 2008. This first time event will bring bloggers from across the United States together to raise awareness for The Leukemia & Lymphoma Society and its mission to cure leukemia, lymphoma, Hodgkin's disease and myeloma, and improve the quality of life of patients and their families.
The event is being hosted by Goodies for Mom in conjunction with the Friends of Heroes (FOH) National Light The Night Team of which I am a proud part. We are asking (ok ,begging) that bloggers post on your blogs throughout the event about the importance of the LLS mission, share your personal stories of those you have come to know who have been affected by blood cancer, or share some of the stories you read here and on the FOH site during the week that have touched your hearts.
All bloggers participating will have the opportunity to be entered to win prizes donated by event sponsors by leaving a Mr. Linky link on the Goodies for Mom post for the event. The event post will go up on August 11, 2008 at 8:00am. Even if you do not have a blog, visitors to the Goodies for Mom and Friends of Heroes blogs during the week will also have opportunities to win as they learn more about the importance of LLS's research and patient services in the fight against blood cancer.
To help promote the event, anyone who puts a button or banner on their site, or writes a post about the event with a link back to this post, then leaves a link below on our Mr. Linky by midnight on August 10, 2008 will be entered for a chance to win a $25 Barnes & Noble gift card.
Here is the code for the buttons and banners: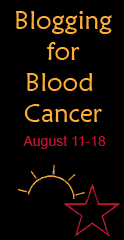 To get you started learning about FOH, pop over to the Friends of Heroes blog and read about Courtney's Angels, an FOH affliate team honoring a fun, incredible angel named Courtney.
Make sure to check back as prizes are added for the event. If you would like to sponsor a prize, contact me at lois(@)goodiesformom(.)com. Currently we have the following prizes lined up during the event:
$900 Timberland and Lacoste product assortment, including duffle bags, totes, luggage tags, backpack, key ring, i-pod cases, and purse, courtesy of Samsonite.
7,000 Entrecard Credits, courtesy of Eyespi20.com, Travelin' Show, My Reading Nook, Øblog, Chihuatude, and the Cushie Pushie Breast Support Pillow.
Signature Floral Half Locket (value=$205), courtesey of The Fine Art of Family.
It's a Glam Thing beauty gift basket (value=$250) courtesy of It's a Glam Thing
$50 American Express Gift Card
$50 gift certificate to Susan Murphy, Inc.
A customized tutus courtesy of Sara Rose Tutus.
$30 gift certificate to The Blue Top Hat
A cookie card and cookies from the Greeting Cookie
100% organic cotton kimono set for baby (pink or blue up to 24 months) from Go Natural Baby™ LLC
100% organic cotton T-Shirt with Coco Pants ( sizes from 3 months - 4T) (choice of three colors for the t-shirt and matching pants) from Go Natural Baby™ LLC
Fused glass pendant from Lucky Girl Trading Company
Washcloth Candies 6-Pack (customized to the winners color choice of pink, blue, or neutral) from Bullfrogs and Butterflies
Tess shopping bag (value=$20.00) courtesey of Mimsi Bags
Set of announcements or invitations from Bellababy Creations
Princess tiara, bells, and tutu (value=$15.00) courtesy of Stakersensations
A baby bundle and pacifier/toy clip (value=$25.00) courtesy of Stakersensations
5 sets of vinyls wall decals (value=$48.00) courtesy of Stakersensations
Taggie ball from Creatively Inclined Moms
BusyBodyBook Family Calendar (4 winner, 1 each of 4 designs), courtesy of Busy Body Book.
Sheath Style Apron (value=$39.00) & Tea Towel (value=$12.00) in Black ala Mode, courtesy of The Hip Hostess
5 pairs of assorted sterling silver earrings (value =$25) from Designing-Diva
Embroidered Duck Satineesnug (value=$19.95) from My Embroidered Gifts
4-in-1 Nursing Shawls ($30) plus a Sleeveless Overall (value=$13.50) from Loved Baby
Sterling Silver Round Precious Images Charm with ball chain necklace (value=$50.00) from My Forever Child
$50 Gift Card from Lord and Taylor
Twilight Party Invitations from Twilightations