This contest is now closed.
Click here to view the winners.
~~~~~~~~~~~~~~~~~~~~~~~~~~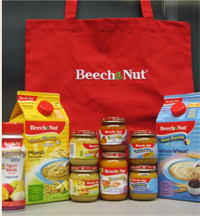 In order to help promote their new product line and innovative new cereal packaging, Beech-Nut is giving Goodies for Mom readers the chance to win one of three (3) Beech-Nut totes backed with their products. The totes contain:

(2) jars of Good Morning (soluable fiber)
(2) jars Beech-Nut DHA plus+ (including the new Wild Alaskan Salmon)
(2) jars Good Evening (Whey Protein and prebiotics)
(2) Easy Pour dry cereals enhanced with DHA
(1) DHA plus+ yogurt blend

How to Win
To win, just visit Beech-Nut site. Then leave a comment on this post on our site with your favorite of their new products and an e-mail.

Deadline is Sunday, May 25 at midnight EST. Open to US residents only.

Beech-Nut's New Products
Beech-Nut is introducing 17 new innovative all-natural products, including the first-of-its-kind yogurt-blend fruit and vegetable juice drinks, new products enhanced with DHA, and unique dry cereals and jarred food varieties. Included also are the first infant and baby food varieties in the U.S. to include seafood, whole wheat, and muesli.

They also recently introduced a unique easy pour packaging for its dry cereal. Cereal stays fresh and pours easily, which eliminates the mess. The packaging is similar to some juice and milk containers but it is the first time that has been brought to a cereal.