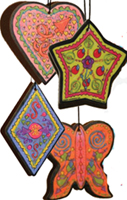 Mom-preneurs and creators of the UGoGrl® Lifestyle Brand, Shirley James and Chrisann Joson, are working to "Get Fresh!™" with the launch of their new line of Designer Mood Enhancing Air Fresheners. They developed the air fresheners after hours of driving kids to and from school, sporting events, etc.

"Kids and crazy schedules can combine to create less than pleasing smelling cars," states James, "We spend so much time in our cars, why not pamper ourselves with a little aromatherapy?"

"Get Fresh!™" Air Fresheners are designed to change the way you experience air fresheners and boost your mood. Choose your perfect scent; Cheerful Strawberry, Rejuvenating Kiwi Melon, Refreshing Citrus, and Calming Lavender. Just hang it up and let the aromatherapy begin.

Their vivid hand-painted designs can be used anywhere a little freshening or mood enhancing is needed. Perfect for cars, home, work, school, and even a smelly gym locker.

"Get Fresh!™" Mood Enhancing Air Fresheners are available nationwide in the automotive departments of retailers, including Wal-Mart®.

About LocaSmarts
Shirley James and Chrisann Joson, both mothers of 4 children, are the creators of UGoGrl® Lifestyle Brand. The company introduced the first ever collectible activity trading cards just for girls in 2005. The UGoGrl® Activity Cards give tween girls a card collection that encourages girls to engage in creative activities providing them with life-enriching experiences. The "Get Fresh!" Air Fresheners are the first expansion product to launch in the UGoGrl® Lifestyle Brand. The Ormond Beach, Florida company plans to build brands that promote positive pursuits. Visit http://www.ugogrl.com/ for more information.