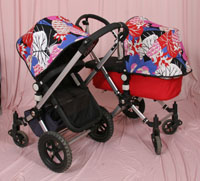 Bonne Bonnets are designed to customize your baby's stroller canopy. The fabric canopies fit over the existing plastic inserts for the canopy. You simply remove the existing canopy and replace with the unique Bonne Bonnet!
Currently they are available only for Bugaboo brand strollers. The canopies are replaceable, removable, and are all machine washable and stain resistant. They are available online and in select stores.
They have four collections a year (one per season) and only make a limited amount of canopies in any particular fabric and pattern. This helps to ensure individuality and the feeling of a custom made product. Not all of the fabrics are posted on the website but watch for new fabrics to be added over time.
[Visit Bonne Bonnets.]