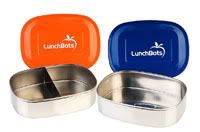 Goodies for Mom is again participating in the Mommy Go Green Blog Tour as we bring you reviews and news of new eco-friendly products and services. This week we are featuring Lunchbots.

Lunchbots are safe, reusable, and fun containers kids will love. These are great for parents who are trying to provide a healthy alternative to plastic containers while also reducing disposable trash from lunches in landfills. Best part it's so much cheaper to pack a healthy snack yourself than buy one of those disposable lunches that are full of salt. [I'll be the first to admit that I've given these to my kids out of convenience but am not happy about admitting to it. :( ]

LunchBots come in a single version which is great for sandwiches and a double version which my very fussy eater son loves for his cheese and crackers.

These are very sturdy containers made of the highest quality stainless steel. Stainless steel has very resistant to stain and rust. Stainless steel is easy to clean, durable, and sanitary.They recommend hand washing with a mild detergent, but since hand washing just does not happen at our house, I tried them in the dishwasher and they seemed fine. My guess is they'll just wear out faster, but even though I try to be eco-friendly I have my limits. For less than $15 each, I'll just replace it if it gets worn quicker in the dishwasher. Plus, I read somewhere using the dishwasher actually uses less water so can I balance it out in my enviro-footprint?

The lid is designed to fit tight to keep the food inside. Best used for solid food, LunchBots are not water tight and can leak.

About Lunchbots
LunchBots were born because Jacqueline Linder, founder of LunchBots, believes that plastic is toxic – for our bodies and for our planet. Like many parents she packed a healthy lunch for her kids each school day. But the more she learned about plastics and the chemicals they leach, the more concerned she became about using them, especially for storing food. Because of this, she decided to eliminate all plastic from her kids' lunches and buy non-plastic containers to pack their food. She searched local stores and online and was surprised because she couldn't f

ind anything made of stainless steel, a material used in dairies and breweries for years. She felt so strongly that she decided to create a product herself, and Lunchbots was born.

Use coupon code: "FREESHIP09" to get free shipping in the U.S.

[Visit Lunchbots now.]

Brought to you by Mommy Go Green Blog Tours.