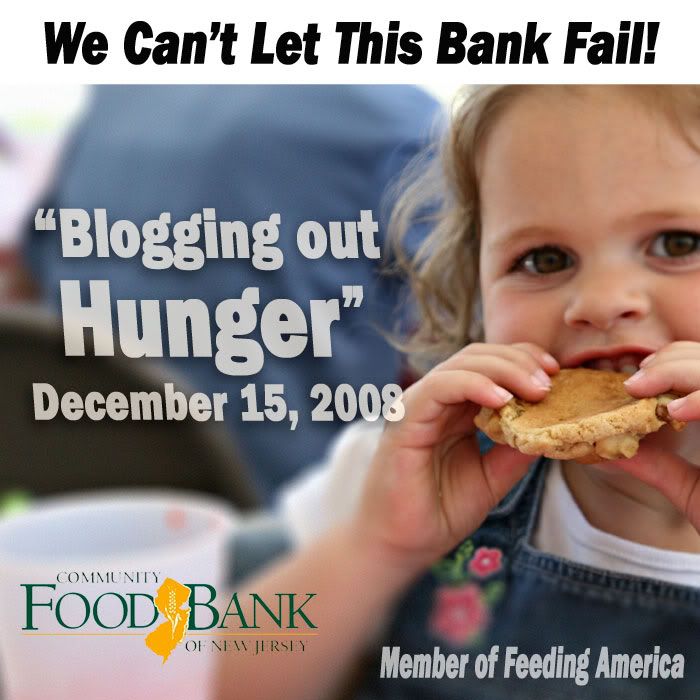 Today as a group of 100 New Jersey bloggers, I am participating in "Blogging Out Hunger" in an effort to raise awareness for the Community FoodBank of New Jersey, the largest food bank in the state. Also helping in the effort is Legendary music icon Bruce Springsteen who is lending his voice to the fight against hunger in New Jersey. The Boss will be appearing in a major advertising campaign for the food bank entitled "Can't Let This 'Bank' Fail!"

The Community FoodBank of New Jersey is facing a dire shortage of food that without your help it may, for the first time in its history, begin to ration food. This is a state-wide crisis. The unstable economy has resulted in a 30 percent increase in those in need of food, but unfortunately donations are down 25 percent. In the past, the Community FoodBank of New Jersey has provided assistance to more than 500,000 New Jerseyans annually, but expects to see a large increase this year.

Today, the FoodBank distributes over 21 million pounds of food and groceries a year, ultimately serving nearly 1,700 non-profits including 436 programs served by its Partner Distribution Organizations (PDOs).

How You Can Help:

Make a monetary contribution: Visit http://www.njfoodbank.org/.
Donate food: Drop off a bag of food at your local food pantry.
Organize a food drive: We can help explain the logistics of starting a food drive. Just call 908-355-FOOD.
Help "Check Out Hunger:" Look for the "Check Out Hunger" coupons at your local supermarket and donate. No donation is too small!
About the Community FoodBank of New Jersey
The Community FoodBank of New Jersey (CFBNJ), a member of Feeding America, fights hunger and poverty by the distribution of food and grocery products, by education and training, by creating new programs to meet the needs of low-income people, and by involving all sectors of society in this battle. With the help of so many caring individuals, corporations, foundations, houses of worship, schools and community groups, CFBNJ has distributed, since its incorporation, more than 300 million pounds of food and groceries valued at more than half-a-billion dollars.

With bare shelves and demand for food among state residents far outpacing supply, the FoodBank is in danger of being unable to meet the needs of New Jersey's hungry. Consumers are encouraged to visit http://www.njfoodbank.org/ or call 908-355-FOOD (3663) to learn how they can help.

[Visit http://www.njfoodbank.org/ now.]