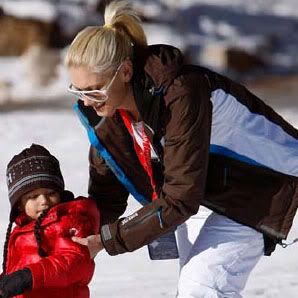 Gwen Stefani & Gavin Rossdale were seen teaching their son Kingston to ski this winter wearing an Appaman Puffy Coat. This warm, stylish coat is a favorite of many celebrity parents who brave the cold weather including: Victoria Beckham, Kate Hudson, Naomi Watts, Brad Pitt & Angelina Jolie, Mariska Hargitay, Courteney Cox, Gwyneth Paltrow, Maggie Gyllenhaal, Christy Turlington Burns, Michelle Williams, Patrick Dempsey, Sheryl Crow & Liv Tyler.

About Appaman
Appaman is inspired by the childhood companion of founder and designer Harald Husum. While growing up in Norway, Husum's pal became a corduroy ape named "Appaman." According to the company, "Appaman relects the whimsical spirit of those youthful times and celebrates the unbreakable bond between a boy and his ape." Husum finds inspiration everyday on the streets of Brooklyn. Launched in the Summer of 2003, Appaman adds to the collection of ever-changing, vibrant garments every season, expanding with fun pieces and exploring new lines. Although Appaman is growing they are commited to customer service and garment quality. They are also remarkable reasonably priced for a stylish children's line that has so many celebrity followers.

Appaman Puffy Coats are on sale 20% off at Bebe Babble now.