This contest is now closed.
Click here for the winner.
________________________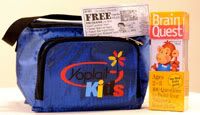 Here's one more giveaway for the Bloggy Giveaway Carnival. Goodies for Mom readers have a chance to win Yoplait® gift pack.

The Yoplait gift pack includes a coupon for a free six pack of Yoplait Kids yogurt*, a cooler, and a BrainQuest trivia game for children 2-3 years old.

Yoplait Kids has a smooth texture and yummy fruit flavors children will love, plus the calcium, vitamins and protein they need. With so many nutritional benefits, there's a lot of love in every little cup and bottle of Yoplait Kids. Plus, my boys love seeing Blue's Clues, Dora, Diego, and Boots on the labels so it encourages them to eat a healthy snack or as part of their lunch.

Also don't forget that during their annual drive that runs through December 31, 2008, for every pink lid you send in Yoplait® will donate 10 cents to Susan G. Komen for the Cure®, up to $1.5 million. And they guarantee a donation of at least $500,000!!

ENTER TO WIN
Just visit Yoplait, then leave us a comment with your favorite Yoplait product by October 31, 2008 at midnight EST. US residents only.

[Visit Yoplait now.]

Also check out some of our other great giveaways this week:

Return to the Bloggy Giveaway Carnival.
*Free coupon is not valid in the following states due to state laws: CA, ID, LA, NV, NJ, ND and TN.