This contest is closed.
Click here to view the winners.
~~~~~~~~~~~~~~~~~~~~~~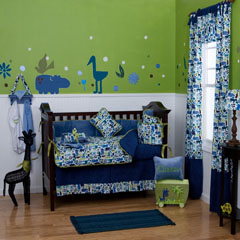 Carousel Designs is sponsoring a Baby Bedding Giveaway for two (2) lucky Goodies for Mom winners. The first will win a functional diaper stacker (value=$39.00). . The second will win a soft and comfy crib blanket (value=$69.00). Winners can choose from their favorite Carousel Designs' contempary, hand-crafted collection.

Goodies for Mom received a Carousel Designs 4 piece crib bedding set in the Modern Zoo fabric. Believe me when I tell you the photos do not do these fabrics justice. The vibrant colors are incredible. The fun, funky modern zoo animals cover this comfy cheerful comforter. I also includes the denim minky sheet that feels so soft. The best piece in the set I think is the very cushy bumper pads and the matching skirt. I know there is always controversy about using bumper pads (we've used them with both boys) but if you are going to use them, these are the rolls royce of bumper pads.

Carousel Designs offers 18 collections for any taste and style. Sweet Candy Pink Angel Toile to fun Minky Giraffe, I'm sure you'll find something for your new arrival.

ENTER TO WIN
To enter to win, just visit Carousel Designs, look around at their great collections, then come back here and tell us, which collection you'd like your prize in if you win. Deadline is Monday, August 11, 2008 at midnight EST. Open to US Residents only.

[Visit Carousel Designs now.]

About Carousel Designs
Carousel Designs is a leading manufacturer of high quality infant linens, crib bedding, nursery décor, and accessories. For twenty years, Carousel Designs has designed, manufactured, and distributed to baby specialty stores. They have twice been selected as the "Manufacturer of the Year" by two different independent retail buying groups.