This contest is now closed.
Click here to see the winner.
____________________________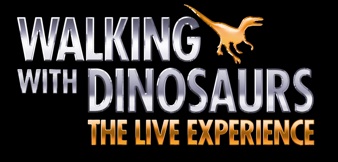 Walking with Dinosaurs-The Live Experience is coming to Madison Square Garden from July 30- August 3, 2008. Goodies for Mom has the opportunity to offer our readers a chance to win a family four-pack and a 10% discount.

After many years of planning, the award-winning TV series from BBC, Walking with Dinosaurs is coming to life. World famous designers working with scientists have created 15 life-sized dinosaurs, including Tyrannosaurus-Rex. The $20-million-dollar event is sure to captivate young and old. You'll be able to watch them walk, and hear them roar.

A team of master puppeteers operates each of the Dinosaurs via the use of innovative, new technologies. Because of the sights, sounds, and movement, you will feel that you are looking at real dinosaurs - alive and responsive to everything, including the audience.

If you are not in NYC, do not dismay they are touring North America, click here to see if they will be in a town near you.

Not only do you have a chance to win a family 4 pack of tickets, but even if you do not win you can get a 10% discount of select tickets.

TICKET DISCOUNT
Discount Code: Use "One2One" when you purchase tickets to any one of the following shows for 10% off:


WEDNESDAY, JULY 30, 2008 – 3PM & 7PM
THURSDAY, JULY 31, 2008 – 11AM & 7PM
FRIDAY, AUGUST 1, 2008 – 11AM & 7PM
SUNDAY, AUGUST 3, 2008 –7PM
Tickets are available at the Madison Square Garden or Radio City box offices, select Ticketmaster outlets and Ticketmaster phone charge (212-307-4111, 201-507-8900, 631-888-9000, 845-454-3388) or online at thegarden.com and ticketmaster.com.
Offer valid on $55 and $35 tickets only. Click here to order.
Discount not available on $99 (VIP) or $75 ticket. Offer subject to availability and may not be combined with any other offer. Tickets are non-refundable or exchangeable. Eight (8) limit per order. Other restrictions may apply. Offer expires Sunday, August 3 @ 8pm.
ENTER TO WIN:
For a chance to win a family four-pack of tickets to the event, just visit Walking With Dinosaurs- The Live Experience, check out the different dinosaurs, then come back here and leave a comment telling us which is your favorite dinosaur. (Winner is responsible for getting the MSG for the event. Transportation not included.) The deadline for entering is Monday, June 30, 2008 at midnight EST.