This contest is closed.
Check out our winners.
______________________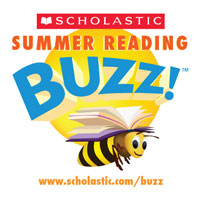 In honor of Scholastic's launch of their Summer Reading Buzz web site, they are giving ten (10) lucky Goodies for Mom readers the opportunity to win a book custom selected just for their child by Scholastic.

Summer Reading Buzz is a site created to keep kids reading over summer vacation, since many studies show that when kids do not read for extended periods they slide backwards. The good news is that when kids read "4 or More" books over the summer, they are reported to do better on their reading comprehension scores when they go back to school. To help in this effort of keeping children reading this summer, Scholastic created this fun site where kids can log the books they read. The best part is that for every four (4) books they read and log, Scholastic will donate a book to a child in need through the Room to Read charity! Plus, if that is not enough itself, children who read four or more books, can enter the "READ & DREAM" sweepstakes for a chance to win a family vacation to WALT DISNEY WORLD!! All this for reading…. sounds great to us.



To enter to win a Scholastic book, visit Scholastic's Summer Reading Buzz and pick a book off the summer book lists that your child enjoys. Come back here and leave a comment with that book title and a valid e-mail address. Ten (10) winners will be randomly selected. Scholastic will then pick a book just for your child based on the book you selected, your child's age, and sex.
Deadline is
Monday, June 23 at midnight EST.
[Visit Scholastic's
Summer Reading Buzz
now.]