In honor of Mother's Day, Goodies for Mom wanted to highlight a hard working mommy so we interviewed Shea Kelly is owner of Chez Shea Baby, Inc. and inventor of DaBib.

Tell me a little about you and your family.
I'm a single working mom with a beautiful 2-year-old daughter, Marisa. In 2005, after still not meeting Mr. Right, I decided to adopt a child as a single parent. It was the best thing I ever did, she's a total joy. We live just outside of San Francisco, a fabulous place to raise children.

What was the biggest change in your life when you became a mom?
I worked in corporate jobs for 20 years, but after adopting Marisa, I struggled with the balancing act between the huge global job & all the travel & time commitments that were inherently part of it. When she was 6 months old, I made the decision to leave the corporate job and went into consulting, which provided greater flexibility for the daycare pickups, etc.

How do you balance being an entrepreneur and mom?
It's even trickier for me right now, because I still work full time consulting, which funds the business as well. The best way I can find balance is to devote my time to Marisa in non-working hours, and push my other work out into the late evenings (many times, into the early morning!). What's sacrificed in the end is basically sleep, but it's the best way I've found to stay focused on being a mom when she's not in daycare during the week, and still stay on top of my consulting business and building Chez Shea Baby at the same time.

Why is Mother's Day an important holiday to you?
I always wanted to be a mother, and thought I'd do it the 'traditional' way - get married and have children. Hitting 40 and still being single made me worry that I wouldn't get to be a mom, and adoption seemed like such a long shot for success. Being granted the huge gift of Marisa, I'm so thankful every day. So Mother's Day for me is incredibly special - a huge celebration of the luck that brought us together, and a huge focus on my own mom as well.

Happy Mother's Day Shea Kelly from Goodies for Mom!!!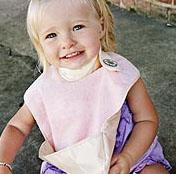 About Chez Shea Baby LLC
Chez Shea Baby, Inc. is a California-based company founded by Shea Kelly, entrepeneur and mom, to develop innovative baby products that provide solutions for parents to help care for their children.

DaBib is an innovation in baby bibs. DaBib's unique "scrunch collar"* minimizes leakage of liquids and solid foods onto the baby's clothing, reducing stains and the hassle of frequent changing. The super absorbent micro fiber terry face and the waterproof backing, provides exceptional coverage, comfort, durability, and versatility.